EPC
What's EPC?
E for ENGINEERING
Every mining project requires hours of engineering to move from exploration to production to a successful reclamation. A company offering EPCM services for a proposed mine will start with a conceptual mining plan and conceptual design of the facilities. For many projects, a preliminary economic assessment and a pre-feasibility study will be required before the project can receive financial backing from a bank to proceed with a bankable feasibility study. Hours of engineering go into these studies, as they cover everything from the proposed plant layout to a detailed analysis of the mine design. The next step, a bankable feasibility study requires the company providing the EPCM for the project to design the open pit/underground mine, solution mining facilities, process optimization and flowsheets, mine/mill expansions, piping and electrical layout, instrumentation and control engineering, and cost estimation. The engineering design teams must be able to execute the full range of design and specification of equipment within the mine and milling complex. All of these designs must be completed to a level of accuracy of +/-15%.
P for PROCUREMENT AND LOGISTICS
After the engineering phase of a project is completed, it is crucial to every project to develop a procurement strategy. Procurement is the link between the design and engineering and the installation or construction phases of a project. This often involves international purchasing and expediting. As well as, coordinating any required source inspections, and all logistics and travel functions that might be associated with the procurement of equipment and bulk materials that will be needed. Some other areas of procurement and logistics are recommending qualified bidders for construction projects, preparing and issuing RFP (request for proposal) packages, bid analysis, and purchase preparations and recommendations. If the company involved is also in charge of the overall management of the project, the next steps will be preparing and awarding the purchase orders, expediting suppliers' data submissions, and then inspecting equipment and material before making sure all freight documentation is correctly filled out so that there will be no delays. Depending on the size and scope of the project, the logistics and procurement segment of a project can be a daunting task. Now that the engineering part of the project is done, deadlines to project commencement must be met and there can be many delays or hurdles that must be overcome in order to keep the project on time.
Any company that offers procurement and logistic services must have good relationships with equipment suppliers and freight companies to ensure that equipment and materials will be delivered safely and on schedule. In addition, risk management of the overall project is high at this stage, so anyone working on the logistics phase of a project must have contingency plans ready. Managing the logistics services rounds out the procurement activities.
C for CONSTRUCTION MANAGEMENT
Project management is the application of knowledge, skills, techniques, and tools to a broad range of activities to in order to meet the requirements of a particular development. Team building, risk, business, legal, and time management skills are essential to ensure a successful completion of any project. The EPCM project manager is accountable for the outcome of the project in terms of all deliverables, usually stated as performance, time, costs, and scope. It is the project manager that will ensure that the project is executed with due care and diligence and within the contractual definition of the required deliverables. Below is a chart showing the hypothetical structure of the organization of a project management team.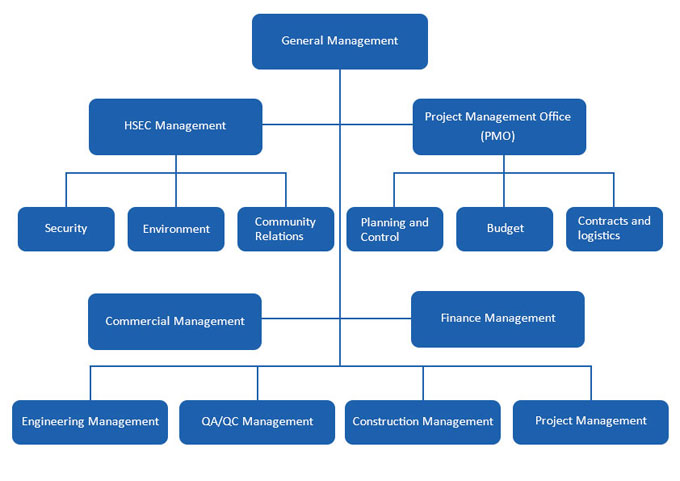 In many projects, the construction management and project management are done together. Many companies offer this service to their client. As they have been involved with the engineering and procurement and logistics, they are the logical choice to be in charge of the construction of the facilities, while overseeing the project management of the entire project. An EPCM company will offer construction management and supervision as part of their overall project management. Management and supervisory services range from initial preconstruction planning to construction and installation, to plant commissioning, start-up assistance and operational phase accompanied by contract management, cost control, and quality checks. A post implementation review is also part of the project management.
Flexible EP/EPC project models
We offer a wide range of projects all over the world. We do EP (Engineering and Procurement) projects, where we handle the whole range of plant equipment or deliver segments, such as pyro or major upgrades.
We also offer our customers a unique 360° solution for the lifecycle of your plant, covering everything from initial raw material investigation and Engineering, Procurement and Construction (EPC) through to ongoing operation and maintenance services.
Less risk - more return with EPC and O&M
In short, SBM can offer the owner of a cement plant to run the plant with SBM staff and to guarantee output levels for an agreed price per tone.
Our portfolio covers everything from end-to-end plant lifecycle solutions via a unique combination of Engineering, Procurement and Construction (EPC) and tailored operations and maintenance services, to a comprehensive selection of specialist equipment and upgrades.
Our EPC projects and O&M contracts are run by some of the most experienced engineers in the business alongside locally recruited staff who are trained and integrated into our expert teams. With 130 years of specialist know-how at your disposal, only we can guarantee a fully sustainable and efficient model that will grow your plant – and profits – long after you take over the operation.
EPC Advantages
One Stop Shopping "One point of Contact"
"Hands off" approach to project
Minimal Staffing Requirements
Minimal Legal Risk

Fill in this form or click the service online, all questions will be answered.