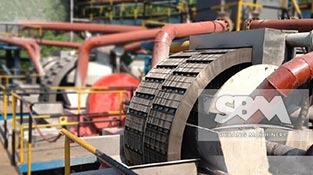 ZGT Series High Gradient Separator
We can provide customers with ZGT Series High Gradient Magnetic Separators, which make full use of comprehensive force including magnetic force, pulsating fluid force and gravity to carry out separation work.
We're here to help:
0086-21-58386189, 58386176
Easy ways to get the answers you need.
sbm@sbmchina.com
0086-21-58385681
Features
The ring is rotated vertically and concentrates are washed reversely, so magnetic medium will not be blocked easily.
Slurry pulsating devices keep ore particles loose all the time, thus improving quality of magnetic concentrates.
Their separation size range is large and the max separation size is 2.0mm. Therefore, it simplifies classification work at working sites.
High beneficiation ratio and high recovery rate; Simple operation and easy maintenance with good adaptability.
Technical Data
Related Products
Request for Quotation
You can get the price list and a SBM representative will contact you within one business day.